Should you include a cover letter? A frequently discussed topic, we weigh up and the pros and cons.
This is a commonly discussed topic, with many people having different views. The bad news is, there is no right or wrong answer. This will be completely dependent on the individual and company. The good news is your circumstance can point to what's best for you and your job search. We're going to help you decide whether you should include a cover letter, and what to include on a cover letter.

A cover letter is your chance to elaborate on relevant skills and experience in your CV, providing relevant in depth stories of past successes and accomplishments for the job. Generally, job search experts recommend you to include a cover letter if you're worried about not being qualified enough for the job description, or concerned your experience won't match those that you're up against in the application pool. For example, if you're changing careers a cover letter can be used to explain to an employer why you're making a career change, or why you took a career break – these are things you can't go in detail in on your CV.
The employer will not always state if a cover letter is required, there is sometimes an option to upload a cover letter and on other applications there is no option to upload a cover letter. If there is an option to upload one even though the employer hasn't stated in the job description that a cover letter is required, there is no harm in uploading one.
A recent study from Society for Human Resources found the top three things that must be covered in a cover letter: how a candidate's work experience meets job requirements, how a candidate's skills meet job requirements and why a candidate wants to work at the organisations.
Remember, the main purpose of a cover letter is to leave the employer convinced that you are the right person for the job! Keeping it personalised and using the requirements of the job to dictate the content of your cover letter should help with this.
Applying for a job can sometimes feel like a full time job in itself. You may find yourself applying to a healthy amount of jobs, which is why it's worth putting together a master cover letter. When you are applying for a job you can then go in and change the personal details, add or eliminate any skills which are not relevant for that specific job.
Want to know what to include in a cover letter?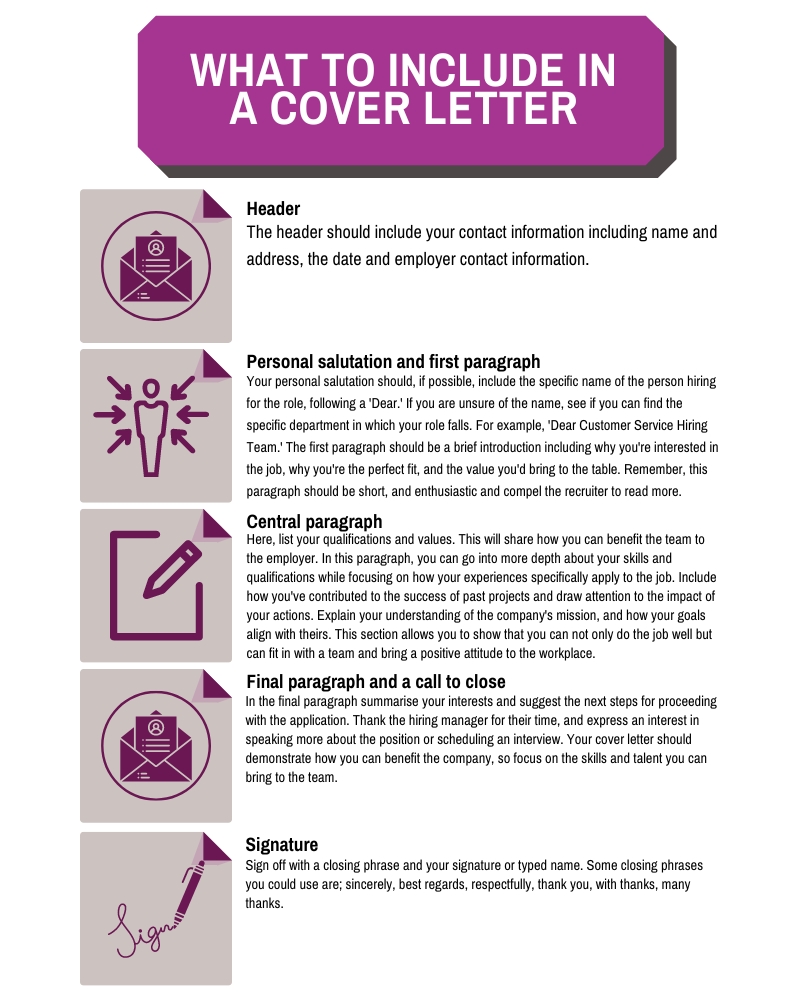 Click here for more CV advice.