The festive season is looming and the busiest time of year is just around the corner.
November through to January is a time for friends, family, gifts, resolutions and various other aspects depending on what the season means to you. However, what we tend to forget is that this period can be among one of the most stressful times of year for a number of people. Retail stores are flooded, warehouses are stocked, restaurants are packed and schedules are full, and now is the time to make sure you are prepared for what's ahead.
There are three factors likely to occur throughout the festive period: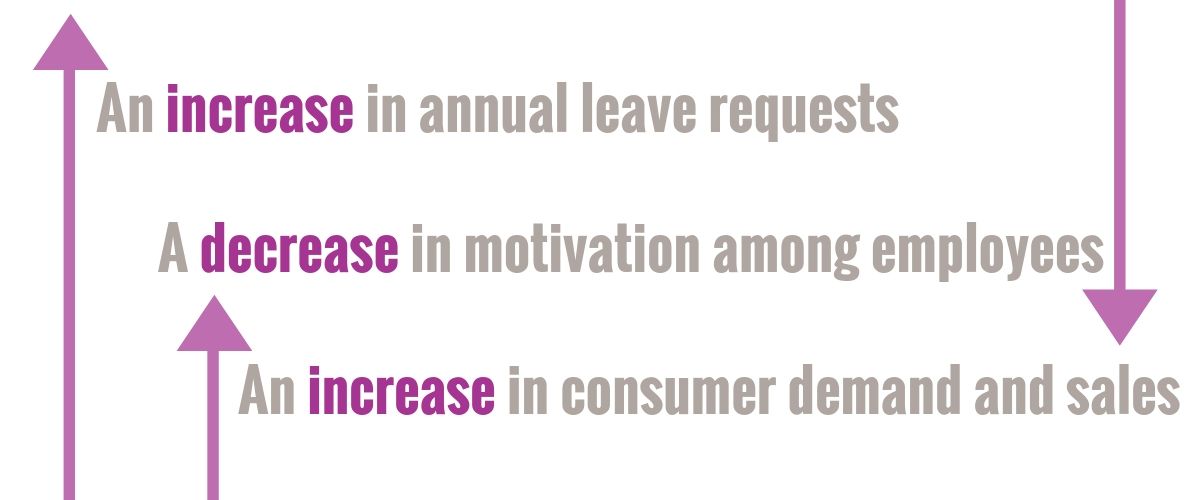 So as a business owner, manager or employee have you considered how each factor could affect you, your team and your family life? Consider the following steps to ensure you've covered all bases this festive season, to keep stress levels low and festive spirit high.
Release your Holiday Closure Period Early
Ensuring that employees and customers are notified in advance of the holiday working hours is essential. For consumers, it ensures that they know to place any orders ahead of time and avoid disappointment. Similarly, making employees aware allows them to plan their own schedules and incorporate any leave they may wish to take. Since employee motivation levels can be lower over these months, giving them something to look forward to such as family time, can boost happiness and productivity.
If your business has been in operation for more than a year, review last year's sales report to get an idea of how to prepare for any increase in demand. It will also give an insight into which products or services were particularly popular at that time and consider their stock levels. However, be careful not to over prepare and end up with dead stock that becomes wasted. Additionally, don't allow the hectic nature of the time of year to force you to put sales and expenses on the back burner. Stay on top of your daily business tasks and remain focussed on your business goals.
Consider Hiring Temporary Staff
As it is such a hectic time of year, there is always a chance that some customers may be disappointed with long queues, sellouts or bookings for services being full. To avoid this happening, it is worthwhile considering the benefit of hiring new or seasonal employees. For the industrial, catering and driving sectors, hiring temporary workers in the lead up to December is common practice.
Temporary staff are great for reducing pressure on permanent staff. Incorporating a temporary workforce provides the flexibility to hire multiple employees during sales peaks without the long-term commitment in quieter months. Additionally, by partnering with us at Berry Recruitment, we are able to take the hassle out of hiring temps by taking care of payroll, holiday pay, and all statutory costs.
Be Flexible with Employee Leave
Take the time to meet with employees to discuss their expectations for the holidays. For some, having leave over the Christmas period may be the least of their worries, for others it's an important time for family and friends. Be transparent with your team about what they can expect and do your best to work with them depending on what their values are. This approach will not only ensure you are aware of people's plans, it will also make employees feel cared for and valued.
The last thing anyone wants in December is a workplace injury because someone overlooked a safety checklist at the end of his or her shift. In the lead up to such a busy period, it is a great idea to inspect the nature of employee workspaces, ensure all safety, electricity and cleaning precautions are being followed. A complete overhaul will remind everyone of how important their safety is to you and let them know not to be careless or take risks. Finally, be sure to replace items that might put someone at risk and remove anything that creates clutter.
Decorate your Business, Office or Workspace
For many employees, seasonal decorations can be a great way to help people feel immersed in the festivity whilst also remaining productive. A change of environment is also motivating in itself as it can encourage productivity and make the workplace more stimulating. Additionally, if you have a storefront, decorating throughout the festive period can help draw in further customers and allow them to celebrate with you.
Consider Recognition Techniques
The end of the year is a perfect time to recognise those employees who have worked hard throughout the year. Whether that be done in the form of a work event or meal, an awards ceremony or just a personal email to remind employees how much they are valued, this is a great way to boost motivation. Regardless of people's beliefs around Christmas and how they choose to spend the festive period, by the time December rolls around, most are more than ready for a break. Recognising those who are deserving is a great send off and way to inspire people to start the New Year positively.
Last of all, although it's a season of celebration, make sure that you've asked your loved ones if they feel prepared this festive period. The demands Christmas and New Years bring can be overwhelming so among the excitement, we hope we can support you the way you would support your own. From our Berry family, to yours.
For advice on preparing yourself or your business this festive season, do not hesitate to give your local branch a
call
today.