Organising a large event is no small feat, and its success is largely down to the quality and the execution of the staff running it. It's crucial to recruit the right people for the roles, but this can be a challenge to do effectively without the support of experts.
As a recruitment agency specialising in hospitality and event staffing, we understand the importance of a simple, speedy hiring process and a seamless experience for organisers and attendees alike.
So here are 5 reasons why you should enlist the help of a recruitment agency to supply staff for your event.
1. Access to a large candidate pool.
Recruitment agencies that specialise in events will already have a large pool of hospitality and event staff that have been thoroughly vetted. Many of these candidates will have worked with the agency previously, and so will have a good working relationship built with their consultant.
In addition to the initial screening to ensure candidates have the relevant skills and experience, recruitment agencies will also offer training where necessary, to ensure they are well-equipped for the specific requirements of your event.
2. Meticulous candidate sourcing.
As well as utilising their bank of existing workers, recruitment agencies will try a number of methods to source new, or, more specific candidates.
Beyond job boards and social media platforms, recruitment agents will attend job fairs, industry events and universities, and run local initiatives in search of promising staff.
3. They allow for flexibility.
Staffing needs for large events can be unpredictable and can often fluctuate. But with a pre-existing pool of screened, experienced candidates, recruitment agencies can quickly and easily supply additional staff or adapt the structure of the team.
4. They save your own time and resources.
Managing the recruitment of a team of staff takes an enormous amount of commitment, not to mention the compliance and regulations that need to be addressed. When there are already so many elements to organise with running an event, adding recruitment into the mix can be unmanageable.
When you enlist the services of a recruitment agency, they will handle all of the sourcing, screening, onboarding, compliance and payroll, saving you valuable time and resources.
5. They have extensive experience and expertise.
Each event has its own unique requirements and challenges. By having experience working with a wide range of events of all sizes, recruitment agencies are well-versed in selecting the right people to meet these demands.
They will be able to recognise the skills, experience and personality traits needed to ensure everything is managed seamlessly.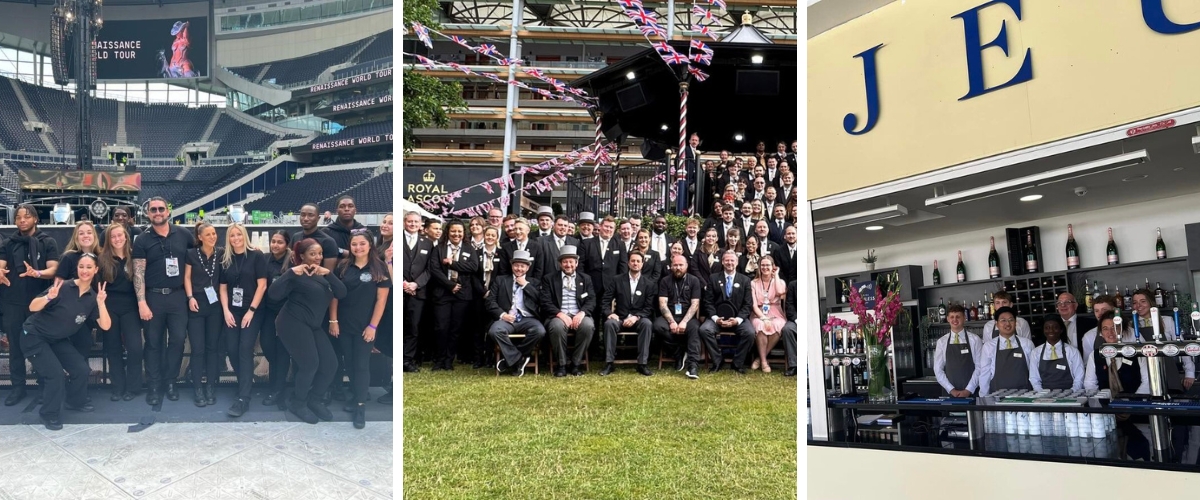 At Berry Recruitment we regularly supply staff for large events. Our Northampton branch has recently supported The Royal Ascot, Cheltenham Races, live concerts and festivals, and can assist with functions of any size.